Symantec Backup Recovery Tool - An Instant Solution
Symantec Backup EXEC repair database software fixes corruption and recovers data from backup files of VERITAS Backup Exec.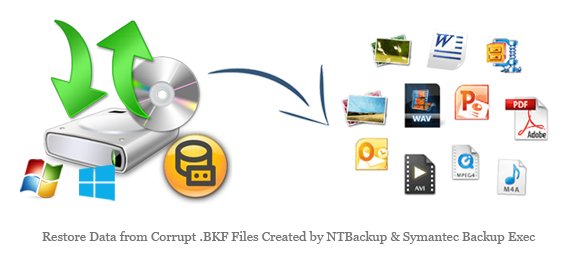 Supports .bkf file of Symantec VERITAS backup Exec and Windows NTBackup files
Searching feature to easily locate desired items from recovered data of backup file
Equips 3 scanning modes : Quick, Range Based, & Deep Scan option to fix corruption
Smart option to save a snapshot of current backup file recovery for further usage
Works with unlimited size of the Symantec backup file : Tested upto BKF file of 30 TB
Recovery software equips feature to view extracted file names from damaged BKF file
Key Features - Symantec Backup Recovery Software
Corrupt Symantec Backup File Recovery : The Symantec Backup EXEC repair tool employs a set of advance algorithms to remove corruption from damaged backup file. Music files, videos, documents, etc., all things get recovered from corrupt .bkf file.
Tool offers 3 Different File Scanning Modes : Repairing software offers 3 different options to scan a corrupt BKF file i.e., Advanced, Quick, and Range-Based scanning. Depending upon the file corruption level, users can choose any of the equipped option.
Option to Extract and Save Extracted Data : Once the Symantec Backup recovery tool finishes the scanning operation, it will load all extracted on its preview wizard. Users can save the regained items on the PC to save healthy data again on local machine.
Selective Symantec Backup File Recovery : It is not mandatory that one has to save all recovered files on the local machine. Users can check only the wanted items, which they require to store on PC. Software will save data without losing a single bit information.
Client Reviews

When I came to know that my Symantec VERITAS backup EXEC file had gone corrupted, I approached for many recovery applications. But, they did not rendered me with features that were mentioned on their page. Actually, I wasted money on one such tool. Thanks to this Symantec Backup Recovery tool, which put the words that were illustrated in its description. I was able to repair my corrupt .bkf file of 15TB in few clicks without any little bit confusion.

Hubert Sims, Cambodia

This is my first ever tool, which I have found with bundle of features in an affordable price. For me, the best part of the product is range-based scanning mode and the understandable interface of product. Instead of wasting time in scanning entire BKF file, I used range-based scanning of Restore Symantec Backup Exec Data tool. This helped me in scanning only desired portion of file, which I wanted and then, easily able to accomplish the task.

Roger Patterson, Hong Kong